Fall Highlights, Construction Zones, & Road Maps
We are in a period of great flux. There is movement everywhere so I'm going to take a few minutes this morning to slow down and take a look at where we are going and at what we are doing to help us get there. Care to join me?
I'm going to jump forward a bit and invite you to view this slideshow. It has recent highlights about how we are getting to where we want to go – from great teachers to great conversations.
So, now the big question: Where are we going?
Ask anyone in Adult Ed lately and they are likely to answer
Renewal. Reform. New programs.
But what does that mean?
We are caught in a construction zone of renewal as we clear out old program codes and make way for new ones. And as we shift how we teach and interact with our students and our colleagues as a result of these changes.
And construction sites can slow us down. But if we keep sight of where we want to go, we will find our best ways there. Because the renewal itself is not a destination. It is a means to getting somewhere. Just like technology.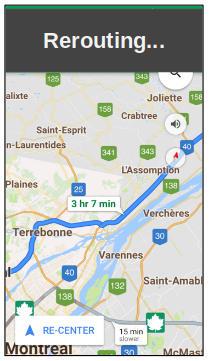 If we
reframe our destination
and put our new programs where they belong, as part of the road map, we may just be able to see our way there.
So, where are we going again?
We want students to achieve – this is, after all, why we do what we do.
We want learning to be meaningful – in other words, we want people to want to learn with us because they find meaning here. We don't want to waste their time.
We want people to be connected and to collaborate – why waste energy juggling balls in separate corners of the province, school board, or building? In order to collaborate, we need to be connected.
There is so much expertise in all of us. We are better together.
How are we getting there?
This is where your road map comes in. Some questions to consider:
What is my road map to student achievement?
What is my road map to meaningful learning?
What is my road map to connection and collaboration?
I really think that the answer is in allowing people to talk to each other about their practice (whether it be teachers, consultants, directors, staff, counselors, or students). I find the most successful work I do with teachers or consultants is when I create opportunities for connecting and collaborating and then stay out of the way to allow it to happen. Incredibly rich resources grow out of these opportunities, you saw some of them in the slide show above.
_____
Image credits:
Demolition of Bonaventure Expressway by Exile on Ontario St on Flickr – https://www.flickr.com/photos/fredisonfire/29211292425/
CC BY-SA 2.0
Rerouting by Tracy Rosen, based on a cell phone screenshot of Google Maps