Designing your space to match your goals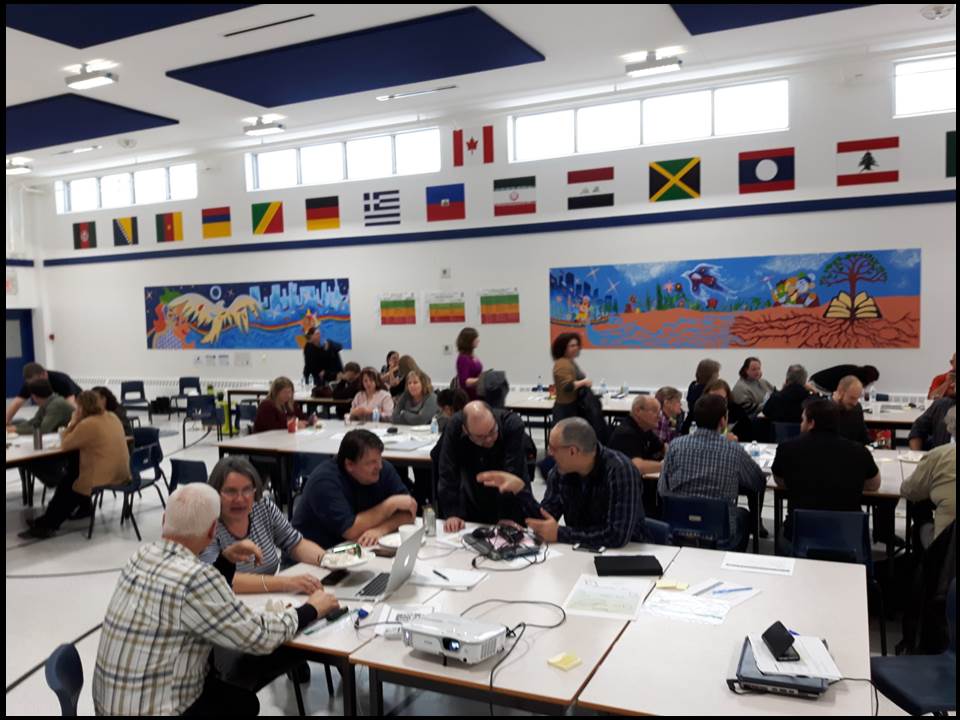 My last post was called the magic of flexibility but really, the magic is a result of very careful planning.
The first sentence to go through my mind when I plan a learning session with teachers is 'Design the space to match the goal' (see CAST, 5 UDL tips for learning environments). If I want participants to talk, I need to make sure that I set up a space that facilitates conversation. If I relate this to the classroom, and I want my students to talk to each other, then I have no choice but to set up my classroom space in a way that makes conversation a part of the learning.
Yesterday, Avi and I were working with about 50 teachers and administrators of the Western Quebec School Board on Universal Design for Learning (UDL) and flexible learning environments. Our space was given to us – a gymnasium. So there was plenty of room for us to set up our stations and for the participants to comfortably move through them throughout the morning.
In conversation with one of the teachers at lunch, she remarked on how loud the room was and she compared it to a PD session we held at McGill University the month before called Designing Engaging Classrooms. There were over 100 people having conversations in one room at McGill and she commented on how it was far less noisy in that room than it was in the gymnasium and that it must have been engineered specifically for better acoustics (which it was). So I looked at pictures of the room to see how we could recreate this effect in our public school spaces – like gymnasiums and classrooms – when our goal is to facilitate conversation.
If you look carefully at the image, you can see that the tables in the active learning classroom at McGill are on different levels so conversations happen on different levels within the space as well.
The tables in the gymnasium are all at the same level, so the sound from the conversations stays at the same level as well.
I remember Tom Rhymes, Director of Educational Services at LBPSB, talking about how classrooms were less noisy at Forest Hill Senior Elementary School since the teachers started to design different seating levels in the classroom – from lower milk crates, to chair level, to standing desks – and this resulted in a redistribution of the sound in the room.
What can this look like in Adult Education?
At the Centre le Vallon in Papineauville, Nadia Veilleux has carefully designed her classroom with different seating zones for her students. The result is an example of how we can use different levels of seating with adult learners to better manage conversation levels in a room.
And finally, when we model flexibility, participants are encouraged to be flexible in their own approaches to learning as well. Take a look at how one of the groups at Western Quebec School Board dealt with the noisy gymnasium… they created their own quiet oasis in the space.
Wow! Teachers experimenting with different level accoustic zones during our #qcspace WQSB PD day! Meeting #underatable #whynot @adamfdotnet @AndreaPrupas @tracyrosen pic.twitter.com/sIFgJpnzOC

— Avi Spector (@a_spector) January 11, 2018
Follow #qcspace on Twitter for more on Designing Engaging Classrooms at McGill (Dec 12, 2017), Flexible Spaces and Adult Learners at WQSB (Jan 11, 2018), as well as other UDL and flexible learning environment initiatives in Quebec.
Here are some highlights from those events:
#QcSpace Dec 12, 2017
#qcspace at Western Quebec School Board, Jan 11, 2018
The #qcspace website updates as new resources are created across the province, so visit it often!
You can also visit PD Mosaic for even more Made in Quebec resources on UDL and Flexible learning environments.