Remembering the Citizen in Digital Citizenship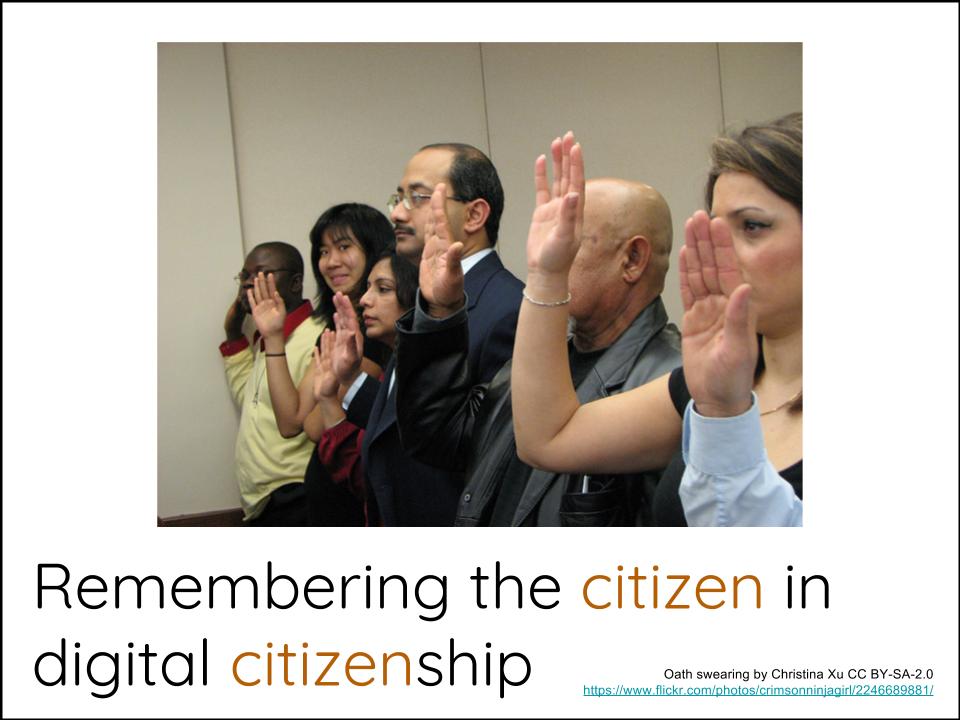 Making the digital scary
I can't wait to walk into a conversation or presentation about digital citizenship that does not include the words risk and dangers or even 'pornification' (for real, just saw that one at a conference the other day).
A few months ago, I saw this on my twitter feed:

The Perils of Life Online – QAIS Parents' Speakers Series, Jan 31 @ 7PM @thestudyschool. Free + open to all! pic.twitter.com/XnnqOMQ2qn

— QAIS (@QAIStweets) December 27, 2016
I still hear people (
in education
) talk about
the real world vs the online world
.
What?

And we are implicit in maintaining this dichotomy when we create separate rules and separate scary presentations about technology and the 'online world'.
Instead of scaring people about all of the perils that can happen when online, we can incorporate the online into our mental models of 'the real world'.
For example, when we have school values about care, respect, and kindness, do we talk about what these values look like in different scenarios, including online scenarios?
Remembering the link to citizenship
Do we talk enough about citizenship with our teachers and students?
Do we all know our rights and responsibilities as citizens?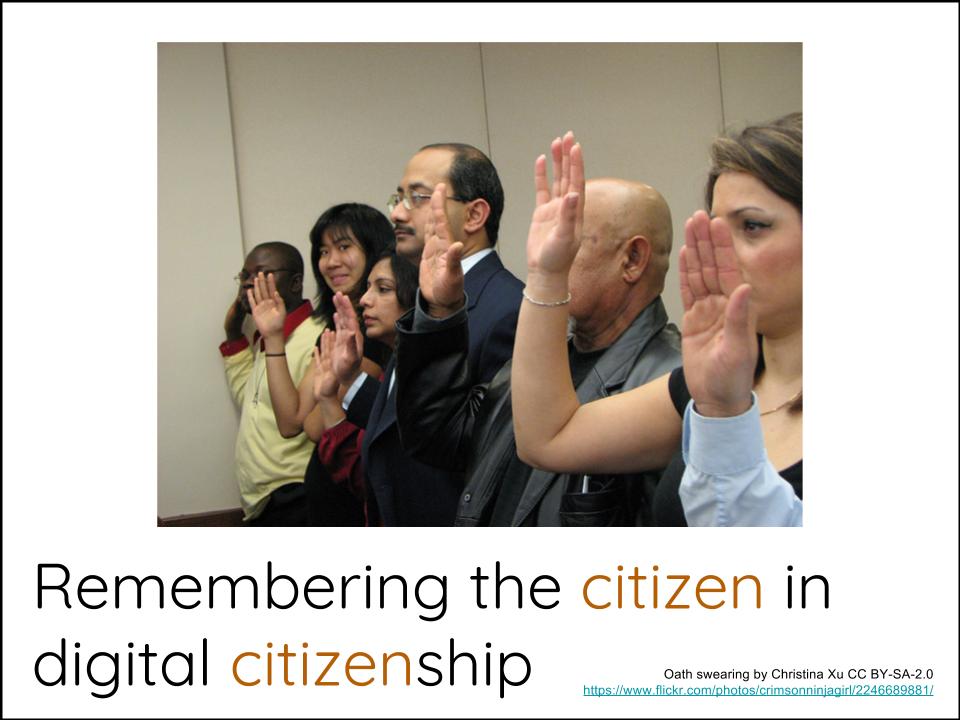 Because, let me tell you, presentations and videos that spread fear about all of the bad things that could potentially happen online do not reflect this.
How is fear mongering an example of good citizenship? In fact, it is the opposite. Are we good citizens when we scare each other into acting a certain way in the name of protection?
I think it is a result of not including technology and online activities in an idea of the 'real world'. Technology is still considered as something different, as an add-on to the rest of life. And sometimes it is just easier to say it's scary, beware! than to change our mental models about the world in which we live.
Our relationships with each other
I find myself watching presentations about the perils of online activity and thinking about relationship. And so I ask,
How are we guiding our children, our students, and each other as we develop citizenship?