One evening back in April, I came across a tweet about a Facebook live professional development event given by Ayodele Harrison.
I was intrigued by the title – Strategies & tools to engage disconnected students who hate learning math. Free online PD – so went to check it out. I came in towards the end of the session and knew that I had found a kindred teaching spirit in Ayodele!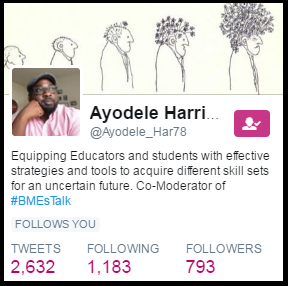 Ayodele had not been one of my Twitter contacts before that night so it was sheer serendipity that I found that tweet in my timeline. We are now connected on Twitter and if you have an account, I suggest you click on his picture here and follow him – his tweets and resources will be valuable additions to your professional learning practice!
His message is one of relationship around learning. As teachers, we have the power to design learning situations and create an environment that will allow our students to talk about math and, through conversation, become more engaged in their math learning. Ayodele does work in the area of teaching and learning strategies as well as in an area that is strongly connected to our ability to use and adapt to new strategies – and that is through our own sense of self-efficacy in teaching.
What I just described is a very rudimentary description of what Ayodele can offer. I connected with his message and his delivery so much that I asked if we could use some of the Facebook live footage on PD Mosaic. Lucky for us – he agreed!
He is in the process of turning the hour-long event into a series of shorter videos, each one framing a specific aspect of his message about transforming mathematical thinking in our students. The first two videos are already live on PD Mosaic and the others will be added as they are completed. They form part of a collection of resources called Rethinking Math Teaching and Learning. Click on the image below to go directly to this collection.
I invite you to watch the series as it unfolds on PD Mosaic. These videos are designed for Math teachers however Ayodele also provides great resources for ALL educators. Besides through his Twitter link above, you can connect with Ayodele at the following spots:
Ayodele's YouTube channel – what a wealth of online learning!!
His website – "Educating is about positioning all learners to discover, understand and walk in their greatness."- Ayodele Harrison
Ayodele's Facebook page – Like his page to receive updates about future online PD sessions and other resources!
I am so happy to have created this connection with Ayodele. As I often say – we can only truly get better together!